SD® SHOW COLLECTION SADDLEPAD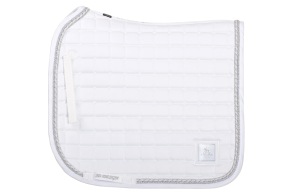 Pris:
769 kr
Inkl. 25% Moms
Art.nr:
P1954250
Typ:
Dressage FULL White/Silver
Antal:
WHITE/SILVER

With our new Show Collection you can always get unique matching competition accessories here.

* The inside is made of the unique Quick Dry materiale, who makes the saddlepad both breathable, sweat and heat transporting.
* The shape of the saddlepad is an unique SD Designed shape.
* The saddlepads is in shiny satin fabric who is dirt repellant.
* The saddlepad will stay put during riding and there is very good space at the mane so the pad do to preassure on the sensible spinous processes.
* The girtstrap is with velcro so you easily can remove the girth.
* Classic and stylihg SD logo on the left side.
* The saddlepad is made with 3 pipings in metallic silver who adds that extra elegant bling as SD are know for.
* Our shiny fabric keep the shape and colour after washing.
* Handwash or wash with max 30 degress and no centrifuge. Wash the saddlepad inside out preferably in a washing bag to keep good care of pipings/badge. Stretch lightly after wash and hang up to dry.